Need to know: Interviewing for success.
Applicants are influenced by many factors. Some you can't control, such as location. Others you can, such as an interview.
At Talent Point, we've helped over 100 innovative brands successfully scale their teams. In doing so, we've developed an approach to interviewing that supports quick and sustainable hiring. We call it 'Interviewing for success'.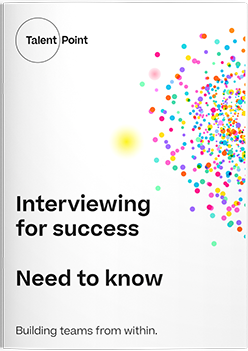 Interviewing for success is not about hiring every applicant. It's about creating skilled interviewers who enable every applicant they meet to give the truest representation of their personality and ability. When applied consistently against the same criteria, it results in fair and measurable interviews with the bonus of positive applicant experiences.