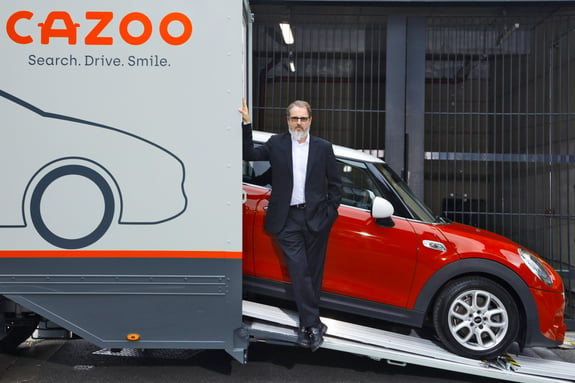 Scaling Europe's fastest unicorn.
3
European-country talent sourcing strategy.
600
Strong team, scaled from scratch.
3.1
Average submissions-to-hire.
24
Days average time-to-hire talent.
£536,000
Per year, saved on agency cost.
About Cazoo.
Cazoo were founded in 2018 by CEO, Alex Chesterman OBE, to transform the way people buy used cars. After launching in December 2019, they enjoyed record breaking growth and secured over £450m in funding before listing on the NYSE in August 2021. They are officially Europe's fastest ever tech unicorn.
This pace of innovation can only happen with brilliant people and the right values. Cazoo's Product and Engineering team embrace Agile, XP and Software Craftmanship, and maintain the highest standards across the board with a team of dedicated coaches.

Now, Cazoo are very much focused on expanding across multiple European locations. They are committed to fostering a diverse and inclusive culture, hiring the very best talent and continuing to build the smart technology solutions required to truly disrupt the used car buying experience.
The challenge.
Increase volume of hiring in technology to support rapid growth post investment
Speed up time-to-hire to improve business agility and reduce time commitment to interview
Improve diversity and inclusivity in recruitment process
Reduce the overall cost-of-hire
"I really like the way that Talent Point work. [Their process] saves a huge amount of time; it makes it actually feasible for us to be able to scale at pace."
Our solution.
We are the team behind Cazoo, running their tech hiring and scaling the business from 1 to 600 Engineers in just two years across Munich, Lisbon, and London.
Cazoo originally partnered with Talent Point when they were a brand-new business, faced with the challenge of attracting high-calibre Tech talent as a relative unknown entity. After successfully helping Cazoo build their launch team with 100% retention, our partnership was expanded to support their scale-up plans.
Our first task was to review the current processes and understand where improvements could be made, as the existing set-up, we helped to create, had become strained by rapid growth of the hiring community and a new normal brought on by COVID-19.
This enabled us to maintain consistent and rapid hiring through COVID19, sourcing the best and brightest across Europe. In 2021, our focus shifted to maintain a high velocity of hiring in the UK, while also helping with merger and acquisitions made in Lisbon and Munich. This involved training and onboarding the technology hiring community in both locations, as well as standardising interview processes.
We've also supported the emergence of them as an employer of choice for the engineering community. We've enhanced their employer brand by launching a technology blog and hosting (virtual) meet-ups.
A clear success.
In the six months until November 2021, we made 49 hires, which is an average of 8+ per month. In that time, the average submission to hire rate was 3.8:1, and the average time it took to handle a candidate application was 13 days.
In this time, we also offered interview training to over 80+ team members, and aligned the hiring processes of multiple acquisitions with the parent company. A key result of this was introducing a process that was inclusive, and focused on mitigating unconscious biases.
The impact.
Cazoo

are the fastest European company to hit a £7 Billion IPO

They have had the largest seed funding round of £450 Million in European history
We have helped scale their team from 0 to 600 Tech employees across all verticals in 2 years and 4 months

We have supported total hiring from 0 to 4500 employees