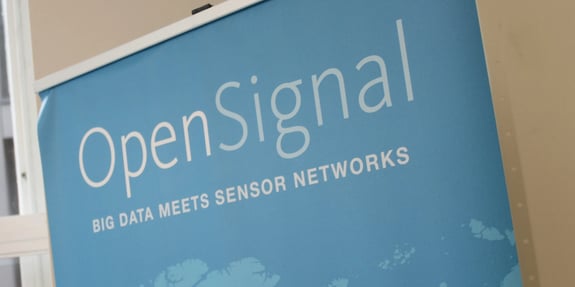 Optimising global communication networks.
3
Countries to consider for a global talent sourcing strategy.
9
Hires on average per month.
$1,006,200
Saved on agency fees (Av. salary $65,000 at 18% fee).
About Opensignal.
Following two acquisitions of Opensignal and Tutela over a two-year timeframe, Comlinkdata was in the process of merging the three organisations under a new Opensignal brand. In the space of 12 months, they shifted from operating more regionally to now operating as a significantly larger global organisation with entities in the US, Canada, UK, and Singapore.
However, the talent acquisition function consisted of one in-house recruiter and regional People Partners and was not positioned to scale post-merger.
The challenge.
Increase volume of hiring in technology, sales and data to support growth post-merger
Speed up time-to-hire to improve business agility and reduce time commitment to interview
Improve hiring processes and create a cohesive global talent acquisition function
Reduce the overall cost-of-hire
"Talent Point have improved our hiring processes to a point where scaling further is simplified."
Our solution.
Our team operated alongside the existing internal team. We built relationships with the People partners and business leaders, mapped talent acquisition procedures across each geographic location, and partnered with our clients to implement more formal hiring processes to enable the business to accelerate their growth.
We introduced Campaign Briefs to drive applicant attraction and engagement, creating interview guides and clear assessment criteria that ensured alignment across the hiring teams on what skills were required for each role. This was especially important where they were now hiring for similar roles with managers from legacy organisations.
Our efforts helped mature the business' understanding of what a high-performing talent acquisition function looks like, and improved processes around screening and pre-vetting candidates using tailored screening questions and assessments to bring more objectivity to the process for each role. Over the course of 2022, our work enabled Opensignal to ramp from 9 hires in Q1 2022 to finishing the year with a total of 86.
The impact.
Opensignal have achieved an 18% net employee growth rate, with a 35% growth rate in their Boston office. They now have established global hiring processes that cater to shifts in strategy, hiring velocity, and geographic needs, as well as enable the team to tackle issues such as diverse hiring.
We implemented the structure with the long-term growth in mind, while achieving hiring targets across multiple functions.