Going remote can allow you the opportunity to hire anyone, anywhere.
But what should you pay? What's fair? …and how do you actually pay them?
When hiring remote employees, understanding what constitutes a fair compensation package is more complicated due to variation in salaries and cost of living, as well as required and expected benefits in each country.
You also need to consider how to compensate for the less obvious physical and mental health benefits of a fixed and controlled working environment that you can no longer provide.

How to calculate remote salaries.
From a salary perspective, there are generally two schools of thought when it comes to calculating what to pay remote employees:
Global salary
Local salary (Adjusted for cost living)
Global salary.
This is pretty simple. Regardless of where someone lives or their cost of living, everyone in the business fulfilling the same role is paid the same.
Probably the most famous backer of this approach is Basecamp. Basecamp aim to pay their staff in the 90th percentile, or top 10%, of the San Francisco market rates regardless of where they live.
At Talent Point, we use our own market data to benchmark salaries for the regions in which we work as we trust the accuracy of our own data. There are, however, plenty of tools available for understanding salary trends and rates around the world. Basecamp use a tool called Radford and there is another well-known provider called PayScale.
Whilst this approach is simple, the location you benchmark your salaries from will have an impact on where you're able to hire. For example, if you're benchmarking your salaries in London and paying this globally, you'll find it challenging to hire from places such as San Francisco or Switzerland as the overall cost of living is so much higher.
Local salary (Adjusted for cost of living)
A solution to this is to adjust salaries in line with cost of living. This works by the company choosing to benchmark salaries in one location and from there working out a % cost of living adjustment for each other location they choose to hire in.
Buffer take this approach to remote salaries. Like Basecamp, their baseline salaries are defined against rates in San Francisco, choosing to pay in the top 50 %, then adjusting this for cost of living. To calculate the rate, they use a free service called Numbeo which provides a cost-of-living index for 514 locations around the world.
If you want to see this in action, Buffer have an open Google Sheet with their salary information.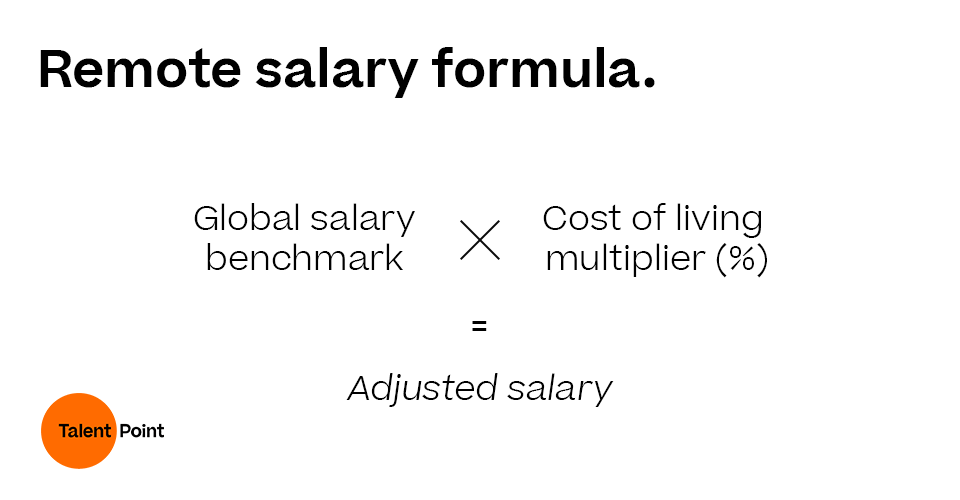 Benefits for remote employees
There is a lot of disparity around the world when it comes to the statutory benefits offered as part of an employee's overall compensation.
This is hardly surprising given expectations differ hugely from City to City. Your benefits package should be designed to ensure all members of the company feel valued & supported and are naturally compliant with local legislation.
As with salaries, some companies will start with a benefits package that is benchmarked against local norms. These are then generalised across the world to be generous in most locations. Although this approach seems sensible, as your teams become more and more distributed, you may find this a challenge to manage given the sheer variation of benefits being offered globally.
Going back to Basecamp, they have a "global PTO" which includes parental leave and holiday entitlement which they feel are generous enough to be effective around the world. This approach significantly simplifies the problem and in experience is the most popular approach to take.
Beyond statutory benefits though there are other considerations you should make. Do you provide a stipend for home office supplies? Should you provide a budget for working from a co-working space part, or all, the time?... And what extra can you do to support mental health given employees are not physically together?
These benefits vary a lot company to company. It often boils down to your values and how you want to support employees beyond what you're legally entitled to provide.
How to pay remote employees, legally!
Once you've figure out compensation, you have a legal and administrative challenge in how to hire and pay your new global team.
Each country tends to have their own tax laws and employment regulations that can make hiring across borders challenging. Hiring international remote workers as contractors can be a solution to this, but it can still be tricky to establish the true employment status of individual cases without some knowledge of local employment laws.
Assume you go this route; you then have the problem of paying them. Transferring money cross borders can be expensive although the rise of FinTech companies like TransferWise have made this easier and cheaper.
Hiring permanent staff is a different challenge.
To hire in different countries directly, you need to establish legal entity in that country, understand their tax and employment regulation and create a bespoke solution for each one.
Remote hiring isn't new though and solutions do exist.
Companies such as remote.com have created SaaS products that – for a flat fee per employee - take care of payroll, tax and compliance, including all risk associated with them.
You may be thinking "not more cost!" and that's natural. But when compared to the cost of setting up and running appropriate legal entities in every country, or paying contractors higher rates to make it easier, this cost can be quickly accounted for.
Should you go down this route, be careful about the supplier you choose as if they outsource their operations in each country to local providers, it introduces risk to your organisation.
What happens if one of their suppliers goes out of business or misbehaves? Maybe more importantly, how is an unclear audit trail going to affect due diligence when applying for funding, avoiding or resolving IP disputes?
Providers like remote.com have solved this by creating their own infrastructure in each country and so can manage the entire payroll, tax compliance and employment law challenges in-house.
So, what's fair compensation for remote employees?
Ultimately there is no simple answer (sorry!).
You need to figure the right solution for your business.
The reality is the cost of hiring is influenced by the supply and demand of key talent. Don't be fooled into thinking you can get away with low compensation packages just because you're offering a more flexible way of working, it's no longer that unique.
To hire the best talent, first you need to make sure you're offering a competitive package in the markets you're hiring from.
This includes the perks you offer outside of salary and statutory benefits.
Survey your existing employees on what matters to them, research your competition for ideas, think about the impact on your bottom line and how you support both physical and mental health.
Use this to prioritise how else you'd like to support employees and build perks into your package that achieves this.
Remember though, it's not all about money. Yes pay them a competitive package but also provide the culture, environment and career opportunities that attract and retain the best people.
-- At Talent Point, we support tech-driven business of all shapes and sizes and have helped advise them on tackling these questions to ensure they can hire and retain the best staff.
Whether your remote first or part-remote, get in touch today to see how we can help you scale your team quickly and sustainably.